We start from Nicole Kidman showing funny faces. He seemed to be defecating in the bathroom. Brooke Shields is doing in the interview session, with open mouths and wide eyes squint. Amy Winehouse looks with a face that is almost similar to Nicole Kidman, but probably more out Amy. Celine Dion's like having a display face while singing. Britney turned out to look very ugly when not wearing makeup. And the last Tori Spelling's like having a face older than his age now. Hmmm .... that's celebrity.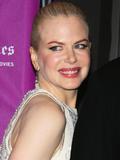 Rachael Taylor Show Her Undies
Having a bit of an unfortunate incident, Rachael Taylor exposed her undies at the Apple Store in Sydney on Wednesday
The "Transformers" actress was there as the shop played host to a free iTunes 'Meet the Filmmaker' event.
Moderated by Yumi Stynes from MAX, the intimate conversation was with the talent behind the acclaimed Australian feature film Cedar Boys, including director Serhat Caradee, and lead Les Chantery.
Earlier in the day, Miss Taylor was also spotted leaving The Blue Hotel in an economical hire car filled with clothes.

Kate Walsh Have And Show Her Sexy Buttocks
Kate Walsh was buying food for lunch at a modest restaurant. At the time she waited in line, which is usually a queue of course is very boring. But ... I get it ... lower part of the sexy buttocks Kate Walsh looks at her skirt blown up. Next time the wind blew it should be faster again. Let that looks a lot more.
Emma Watson Seen Her Underwear
Emma Watson, who had only a small child who has become famous for her role as character "Hermione" in the sequel to the Harry Potter movies. Now has grown into a teenager who is very beautiful. But, oops ..... I get it ........ Emma Watson seen her underwear. Actually I want to get more, maybe in another opportunity. Wew ...
Kim Catrall Show Her Little Nipple
Kim Catrall looks very elegant with clothes that he used. But on other occasions, oops ........ I get it. A small nipple poking through her clothes that have parts in the chest. Although only looks small, but it really makes me happy. Hmmmm ...