Nicole Scherzinger - Right There ft. 50 Cent
Nicole Prescovia Elikolani Valiente Scherzinger (born June 29, 1978) is an American entertainer who is best known as the lead singer of the Pussycat Dolls. Previously, Scherzinger was a backing vocalist for the late-1990s rock group Days of the New, then she was part of reality TV girl group Eden's Crush. After the disbandment of the group, she joined the Pussycat Dolls and became the group's lead vocalist during their transition into a career in music. With the Pussycat Dolls, she released two albums PCD and Doll Domination and embarked on several concert tours. After leaving the group in December 2010, Scherzinger began a solo career with the release of her debut studio album Killer Love. The album's second single, "Don't Hold Your Breath" peaked at number one on the UK Singles Chart, in turn marking her first number one hit as a solo artist.Scherzinger became the winner of the tenth season of Dancing with the Stars in early 2010, and was hailed by judge Carrie Ann Inaba, "by far the best dancer we've ever had on the show." She will judge the American version of The X Factor which will air in fall 2011.
Nicole Scherzinger was born in Honolulu, Hawaii in a staunchly Catholic family. Her father, Alfonso Valiente, is Filipino, and her mother, Rosemary, is a mix of Hawaiian and Russian descent. Her mother was eighteen at the time of Scherzinger's birth and lived in an inner city neighborhood.
Nicole's parents separated when she was still a baby. When she was six years old, her maternal family moved to Louisville, Kentucky, with her sister Keala and her German American stepfather Gary Scherzinger.
She first attended Meyzeek Middle School as an adolescent. Growing up, Scherzinger states that she did not have a lot of money and the singer thanks her mother for all the support she gave her to become what she is today. Scherzinger began performing in Louisville, attending the Youth Performing Arts School at duPont Manual High School and performing with Actors Theatre of Louisville. As a teenager, Scherzinger was the first runner-up at the 1996 Kentucky State Fair's Coca-Cola Talent Classic contest. Scherzinger majored in acting and musical theatre at Wright State University, where she played Velma Kelly in Chicago and Julie La Verne in Show Boat but put her studies on hold in 1999 to sing backing vocals for the rock band Days of the New.
In 2001, Scherzinger competed in the premiere season of The WB's television show Popstars, on which she earned a spot in the all-girl pop group Eden's Crush along side the other four chosen members Ivette Sosa, Maile Misajon, Ana Maria Lombo and Rosanna Tavarez . She became one of the main vocalists for the group. Their 2001 US single "Get Over Yourself (Goodbye)" peaked at number one in sales and hit the top ten on Billboard Hot 100.
They toured in support of both *NSync and Jessica Simpson. Scherzinger was approached to be the fourth member of The Black Eyed Peas, but was forced to decline because she was a member of Eden's Crush and was under contract, the position was given to Fergie. Later however, Eden's Crush' record company, London-Sire Records, folded and the group eventually disbanded. In November 2007, Scherzinger spoke of her time in Eden's Crush:
It was hell... I was in a band with five other girls and every day was torture for me. We were on TV all the time and the atmosphere was awful... Every day I was in that band I cried my eyes out. The band was meant to be fun and frivolous but the reality was that it was miserable... I was too sensitive back then, but I got toughened up. I couldn't have gone into the Dolls without my experience in Crush.
After the disbanding of Eden's Crush, Scherzinger made a few promotional solo appearances under the stage name of Nicole Kea, including covering "Breakfast in Bed" for the soundtrack to 50 First Dates in 2003. Scherzinger later worked with Yoshiki of Japanese rock band X Japan on his Violet UK project. She sang the English version of "I'll Be Your Love" live with the Tokyo Symphonic Orchestra. The track also appeared on the 2003 Various Artists album Exposition of Global Harmony.
In May 2003, Scherzinger joined the Pussycat Dolls burlesque troupe, who were being re-cast as recording artists. She had first seen them performing on The Late Show with David Letterman in November 2002, where Carmen Electra sang "Big Spender" from the Bob Fosse musical Sweet Charity. In 2006, Scherzinger said "It caught my eye because I'd played Velma Kelly in [Fosse's] Chicago in college." In one interview she spoke of her role with the Pussycat dolls stating that it was a "challenge fronting the group" but that "every girl has something different to bring and add to the success".
The success of PCD brought Scherzinger into the media spotlight and she went on to record a series of duets/guest vocals with a wide array of male vocalists. In 2005, she appeared on recordings by Shaggy, Vittorio Grigolo and Will Smith. In 2006 she sang co-lead vocals with Avant on his single "Lie About Us", and Diddy's hit "Come to Me" (which she also co-wrote). Other appearances are listed in discography. In the biography section of her official website she says that everyone recognises her from the Pussycat Dolls's debut single "Dont Cha" which although amazing does not fulfill her musical desires. When asked what she intended to achieve with her solo career she commented "Some people only have their glasses half full, but there was never a limit to mine."The purpose of the album was to appeal to younger audiences, show them "the heart of Nicole" and show that she is "not always strong and fearless".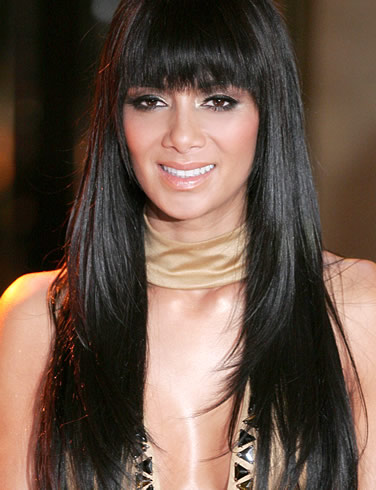 From 2006 until late 2008 Scherzinger had been working on her debut album which was titled Her Name Is Nicole. She recorded/wrote about 75–100 songs for the album which was supposed to be released in 2007 before being pushed to October 16, 2008 and later into 2009 before being shelved. She told MTV "I've always said that in the Pussycat Dolls, I kind of feel like Superwoman. But that's just one of my alter egos. I've got the vulnerable, lovesick side of me amongst others which all appear on my record." The album saw Scherzinger work with a wide roster of producers and song writers some of whom had worked with Scherzinger for albums with the Pussycat Dolls. Sean Garrett and Polow da Don worked on "Whatever U Like" (featuring T.I.) which was released as the album's lead single on July 24, 2007 but deemed unsuccessful reaching just 57 in Canada. "Baby Love" was the second single released on September 10, 2007. Although well received and compared to the Pussycat Dolls' song "Stickwitu" the track did not chart well in the United States. Internationally the single fared well reaching Top 15 in most countries including the UK, and mainland Europe. It was remixed to be included on Doll Domination as a bonus track. The third single "Supervillain" was described as having a "danceable jam with a catchy chorus" and featured a reggae–dancehall interlude. Written by Rock City and produced by Mad Scientist it was only released to US iTunes in November 2007. The song's synthy melodies and disco-motown feel with Scherzinger's 5-octave range were not enough to chart in the US. Fourth single "Puakenikeni" (a type of flower in Hawaii) also released to iTunes in November was produced by Akon to as a tribute to Scherzinger's heritage but failed to chart.